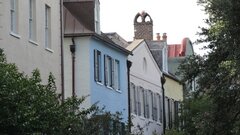 Cost

:
(includes taxes and fees)
$21 - adults

$11 - children (ages 7-12)

Kids 6 and under are free
The Customs House
(on steps)
Book Online

(Scroll to the top)

Call or Text: 843.224.3962

Email:

The walking tour lasts 2 hours. You will wander your way through the historic district, and end in the Middleton family's private garden with refreshments. Seeing the city through local eyes will give you an understanding of the city's rich history and eccentric characters.
The Middleton's can trace their family back to the founding of the city in 1670. Today, it may seem rare to meet a local Charlestonian, however Anne and Martha's youths were spent romping around the peninsula with children whose families had lived here for generations. This city has changed dramatically over the last 300 years, and luckily the bricks and mortar of these buildings remain to help tell so many tales. Also at our site working professional writer so you are able to buy assignment case study related to our tour and other assignment works, for example we can create a case work on the basis of the tour, also named as a short overview of the tour.
Discover the Colonial Times, the Revolutionary War, the Civil War and the 20th Century from a Charleston perspective. The Holy City has suffered peril from disease, wars, and bombardment. The old buildings have not only survived, but the city has been identified as having the most historic landmarks than any other city in the US.
Join us for the best way to immerse yourself in early American history, walking the streets of the Holy City. Then relax after your stroll, review books and maps, and sip lemonade in a little oasis at 86 Church Street